The Brougham Arms Hotel is located in one of the finest locations, situated at the corner of Williamson Street & Brougham Street. As a result, Brougham Arms is within minutes walking distance to Bendigo's Central Business District and local train station.
This luxury accommodation in Bendigo has newly renovated motel units placed at the rear of the quality Hotel. In total, there are eight motel units, including:
2 bedroom fully self-contained unit, with separate dining and living area and its own courtyard.
4 Deluxe Twin / Double units with both Queen and Single Bed
2 Standard Twin / Double Rooms with a Queen and a Double fold-out bed.
Despite the luxury design, we provide a low-rate hotel for every guest. There is free off-street parking, free Wi-Fi on the whole property, a kitchenette, and free kids' stay.
Other things to expect in each room are Microwave, Kettle, Toaster, Fridge, Hair Dryer, Iron, Ironing Board, and television.
The Spacious 2 Bedroom Apartment comes with a separate living room, Dining, Bathroom & Kitchen area, together with its Private Courtyard.
Please note that this unit's rate is based on 4 guests, although it can occupy a maximum of 6 guests. Bed included are 2 single beds and 1 queen bed. Additional pax, whether adults, children, or infants, are free to stay. However, you must book extra beds with provided linen for them.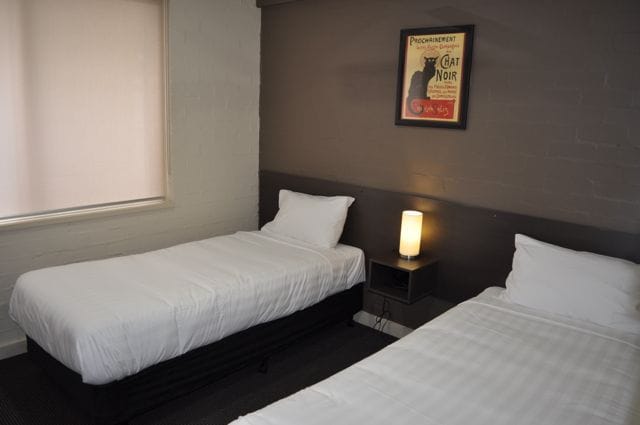 The low-rate hotel deluxe double room includes 1 queen bed suitable enough for 2 occupants. Shampoo, conditioner, and face towel are provided upon checking in, so you do not need to worry if you will be staying unexpectedly.
You are entitled to free off-street parking, so you don't need to worry about finding a spot. You may also use the room's WiFi at no charge.
The quality hotel deluxe twin room has 1 queen bed and 1 double fold-out sofa bed that can spaciously occupy 2 guests or a maximum of 4 occupants. However, please be noted that the room rate is based on 2 guests, and by adding additional pax in the room can bring an extra cost of $10.00 per person per night.
Just like in the other room, once checked in, you will receive a complimentary shampoo, conditioner, and face towel, as well as free off-street parking and WIFI connection.