Since Borough Arms Hotel is located at 150 William Street, Bendigo – a short walk away from Bendigo's Central Business District and train station, it is one of the places that serves some of the best pub meals in Bendigo.
To fully maximize the experience in the hotel, we have prepared three distinctive dining areas – the restaurant, the venue for conferences, and our public bar.
Recently, our restaurant has been recognized as the best place to eat in Bendigo for its fantastic food and quality service. There are three food categories that you may expect when ordering from our menu – Finger Food, Platter, and Boxed Food.
Other people say the best way to appreciate the food is by directly reaching for it; that is why we included finger food in our list. There are many finger foods on our menu, but we offer them in packages for you to enjoy. One of our most common packages is composed of:
Red Pepper and Spinach Croquettes with Basil Pesto
Semi-Dried Tomato Arancini Balls
Master Stock Pressed Pork Belly with Chili Caramel
Chili Salted Calamari with Aioli
Coconut Prawn and Chili Jam
House-Made Vegetarian Spring Rolls with Ginger and Sweet Soy Sauce
Fried Chicken Wings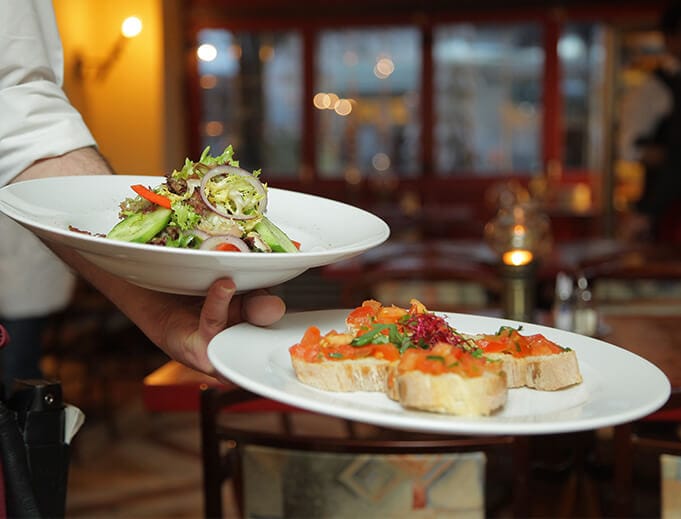 Beer Battered Fish Bites
Bite-Sized Beer Battered Fish Served with Tartare Sauce
Chess Platter
Cheddar, Bree, and Blue Vein Cheeses Served with Fresh Fruit, Quince Paste, and Lavosh Crisp
Yum Cha Platter
Mix of Mini Dim Sims, Samosas & Mini Spring Rolls.
Afraid to miss the train? We got you covered! With our boxed food, you are free to take the meal to work, school, or even just a treat to be eaten later. Check out our most loved boxed food:
Nasi Goreng
Fried Rice with Prawn, Pork Belly, Bacon, Fried Egg & Chili Jam.
Thai Beef Salad
Grilled Beef in a Salad of Lettuce, Red Onion, Carrot, Fried Shallots, Cashews, and Thai Salad Dressing.
Pumpkin & Goats Cheese Risotto
With Spinach, Green Peas, Cherry Tomatoes, and Sage
The listed menu here are a few of the best pub meals in Bendigo, but there's more to taste from us! By clicking the restaurant and pub favorite menus, you will be greeted with all the food we are happy to serve!